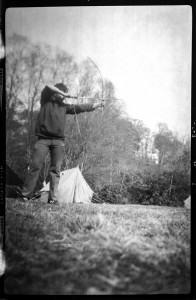 The work is based on a film that lay exposed but undeveloped in a box brownie camera from around 1977 until 2012. It was only discovered when my father handed over all of his old photographic equipment to me. The film and its manner of arrival is significant for the family given that their discovery occurred only a few months after my mother's death.
Of the eight images, most were taken at a summer scout camp. five feature my 10 year old brother and his friends, two were taken in family situations and one is an image of myself.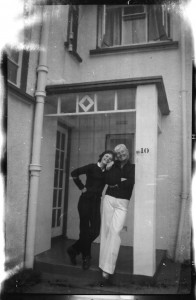 The find yielded a uniquely relaxed image of a mother looking at her 13 year old son. Understandably, it has become an invaluable referent for my father, inseparable from her real gaze; a place of the sublime.
The images of the boys are rich in detail and context.  Shirts and jumpers not T-shirts and hoodies, a knife strapped to a waistband, the free gift in a cereal box. Hindsight based comparison is further inevitable. Not an iPhone, Gameboy or iPad in sight, just a bunch of young lads goofing off when they should have been collecting wood for the fire. One hundred and twelve people died in the troubles in 1977.  The contemporary individual cannot avoid making outward linkages from the frozen moment of younger self. It makes louder the strong, scary background noise of a 1970s boyhood.
The film bears evidence of the incompetent handling of a 13 year old; double and multiple exposures, inaccurate spooling, cuts, creases, fingerprints and marks. Over the years, the film accumulated light leaks that flare into the images, the exposed image in the camera had faded so much that there were technical workarounds required in order to fulfil the cycle and reproduce them by hand as darkroom prints. I had the original intention of printing on my father's genuine 1980s paper however that proved impossible.
The significance of the work extends beyond the reflexive, familial realm however.
With In Camera I, it was important for me to complete the cycle and maintain the integrity of completing the process I started over 35 years ago; shooting, rediscovery, developing and eventually hand printing.
Prints are displayed horizontally in a sealed, lit case and not framed on the wall as photographs; this treatment removes them from the traditional photographic realm and elevates them as art objects to be considered beyond their image content. The treatment is simple but impactful.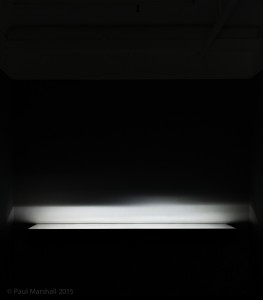 In Camera II is a very different piece that more closely reflects my investigations into Barthesian Post Structuralist theory generally and specifically into the nature of archives as placeholders or triggers for remembering.
This element of the work relies on large size digital projections of the negatives in darkroom safelight-red accompanied by audio excerpts from an interview I carried out with my father.
His recollections span many years and the circumstances under which he engaged in his own amateur photographic pursuits. His commentary is honest and personal, at times nostalgic. The tone of his voice is harmonic, his pauses and habituations catch the ear; we listen between the lines.
2 x 1 minute versions of the  work were created as In Camera III – specifically for viewing on smartphones. visit dev.paulmarshall.co.uk to access them- Refresh that page to select a new video