Public Art is bespoke outdoor art that is created in response to a public space. Because of the costs involved, these artworks generally result from being commissioned by private individuals, corporate clients, councils, or community groups.
I have been undertaking commissions for this kind of artistic output from the early 2000s and have pieces installed on 4 continents but mostly within Ireland and the UK. Working in this vein, particularly with sound-oriented pieces led me to develop my commercial business bingbangbong Ltd. Bingbangbong specialised in developing a range of outdoor musical instruments for schools and public play areas up until the commercial business failed in the recession.  Whilst a 'product range' requires a formulaic approach, bespoke public art works always required me to engage fully as artist and design engineer. This permitted me to maintain my links to the artistic concepts and site-specific development that underpinned and lay the foundations for everything that followed
A number of pieces are viewable from the links below however others were not photographed in situ having been shipped internationally and installed by contractors overseas.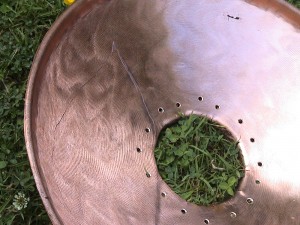 Public Artworks
2001 – Sonic Garden – Lyric Theatre, Belfast – Client: Lyric Theatre

Collaboration with Artists Amanda Montgomery and Alison George
2002 – Whaleback – Lyric Theatre – Client: Young At Art

Sound Sculpture in garden.
2004 – Sensory Sound Garden – Client: Surestart Tilbury

Full garden with bespoke interactive artworks for young children – Collaboration with Landscape Architect Peter MacDonald
2005 – Snake & Eggs – Brandywell Community embankment – Client Groundwork NI

Heavy Duty Sound Artworks in challenging environment
2006 – Bell Tree – Hampton Court Palace Flower Show – Client: Ginkgo Gardens

RHS Award Winning Garden – Centerpiece kinetic sound sculpture 'Bell Tree'
2007 – Cymatic Pool – Dancing Water – Southport Flower Show – Client: Andy Kirman

Damaged in transit to client!
2008 – Megarimba & Shishi-odoshi – Client Private school London

Large outdoor resonated Marimba & water-powered sound piece – installed in private School
2009 – The International – Client IKEA

Prototype interactive play sculpture considered for installation in IKEA stores worldwide
2010 – Sound Garden for Children. Client: Private nursery West Belfast

Interactive sound & sensory garden
2010 – Waterless Bridge – Client Groundwork / Antrim Borough Council

Heavy duty interactive sound sculpture – Rathenraw Estate Antrim