In 2005 I was Artist in Residence with Young At Art. My core project was called Open Your Earlids.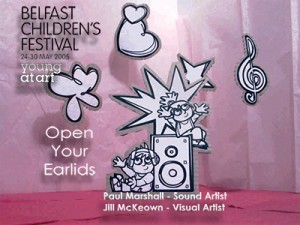 project involved working with 5 schools, 2 in Belfast and others in Armagh, Bangor and Newcastle. Along with Photographer Jill McKeown, our aim was to capture a sonic and photographic postcard of their average school day. The children were also given a number of disposable film cameras.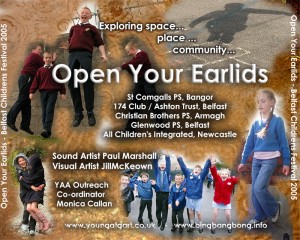 Each piece was constructed from recordings made during a school visit. There would be a short talk about how things make sound, they would be shown an easy way to hear new sounds which they get straight away and then we would go out for a sound exploration walk trying to find or make interesting noises. I also recorded general school activity, playground games, bells, doors etc
The pieces were exhibited as on screen installations at OMAC for the duration of the festival. Audio was available through Headphones.